Commercial Waterproofing Toronto & the GTA
Wet basement waterproofing, interior & exterior waterproofing, sump pump, weeping tile, etc.
Exterior & Interior Waterproofing – Toronto & GTA
One of our areas of expertise is designing and installing commercial waterproofing systems. Although the systems may be similar to residential waterproofing, the needs and accommodations for a commercial project are different. From applying and acquiring all the needed permits, making sure your daily business is not interrupted, ensuring yours and your patrons' safety to completing the project within time and budget. We offer both interior and exterior waterproofing and weeping tile installation in Toronto and the GTA. We create custom solutions based on a number of factors, we provide an analysis and detailed project outline.
A leaking basement in your property will not only disrupt business but it can deteriorate its structural integrity and cause foundation problems. Leaky basements are seen as a liability when trying to sell your property and an investment in commercial waterproofing will increase its value and make it more attractive to future buyers.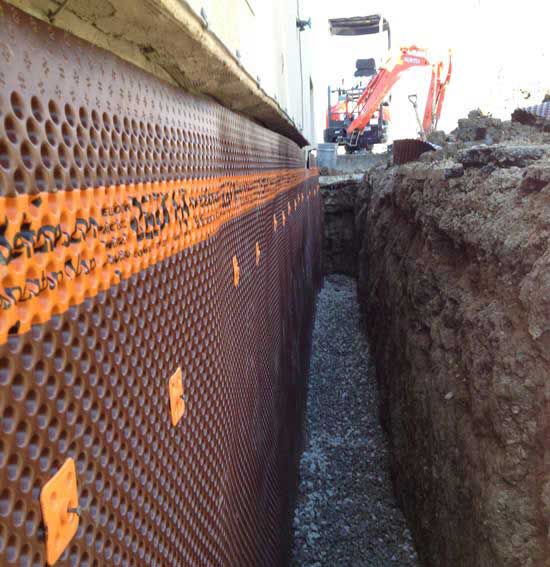 Our past commercial waterproofing projects include:
New constructions
Renovations
Historic buildings
Plazas
Retail businesses
Public buildings
Government offices
Hospitals
Warehouses
Factories
Industrial properties
Apartment complexes
Parking garages
Our waterproofing solutions include:
Foundation crack repairs and injection sealing
Insulating foundation walls to eliminate condensation moisture
Installing high quality rubber bithuthene and drainage membranes
Removal and installation of a brand new weeping tile system
Restoration of water damaged walls, floors and foundation footings
Replacement of previous surfaces: concrete, interlock, asphalt, soil
Why Choose Us
Interhome has been a trusted commercial waterproofing contractor for the past 15 years, serving Toronto, the GTA and surrounding areas. We carry liability and WSIB insurance and the safety of you, your customers and our crew are of high importance to us. We have the expertise and experience to problem-solve complex waterproofing projects, making sure not only of maintaining the integrity of your structure, but also delivering a product of the highest quality that will last you for decades. We employ structural engineers and highly trained and licensed craftsmen. We assign you a dedicated project manager that will be your one point of contact to answer all your questions and address your concerns.
We offer a free on-site assessment, give us a call today to discuss your commercial waterproofing project: 416-836-5253